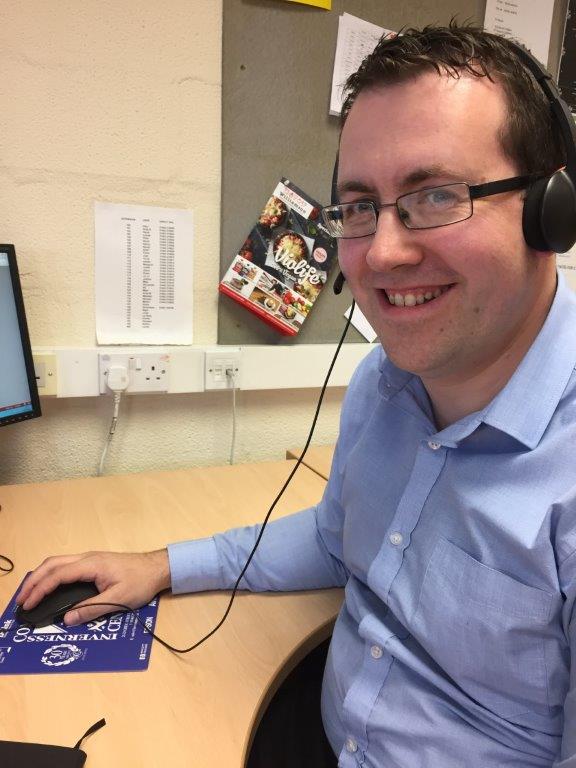 Focus on Williamson staff
This staff member profile will hopefully give our customers more of an insight into our business and help improve the relationship we have with you. Let us know what you think!
David Downie, Orders Department Manager.
Budding space traveller, musician and Aberdeen Football Club fan.
Having joined Williamson Foodservice in the summer, David manages the tele-sales team, ensuring a high level of customer service. This involves coaching and product training for our sales team and working with others in the company to get the best from sales and IT systems. By developing effective future sales strategies, he will also help grow the business.
Q. Why did you choose to work with Williamson's?
A. After looking at the website and reading the staff profiles I was impressed with the values of the company. Williamson's stood out as a great employer to work for.
Q. What three words best describe Williamson Food Service?
A.  Local | Friendly | Innovative
Q. What do you like most about your job?
A.  I enjoy the variety – no two days are the same. My colleagues are friendly and helpful and I enjoy working with them learning about the different aspects of the business.
Q. Have you had any other job at Williamson's?
A. I've recently moved up from Aberdeen having previously worked with Aberdeen Performing Arts and Aberdeen Football Club, both with a customer service focus.
Q. What's the most challenging part of your job?
A. Making sure customers are aware of the wide range of products we offer. I was amazed to learn we list somewhere in the region of 4,000 products!
Q. What does a typical day look like for you?
A. I'll make sure the telesales team have the latest information about products or special offers so these can be passed onto customers. I'm closely involved in the review of customer service queries, meeting new suppliers, monitoring calls and making sure the tele-sales team is operating as efficiently as possible.
Q. What products can customers expect to be hearing more about?
A. We are always working hard to offer the best of local Scottish products. The next 12 months will be no exception so keep an eye out for our next brochure!
Q. What are your hopes or ambitions for the food and drink industry?
A. I hope tourism in the Highlands and Islands continues to grow and this will benefit the food and drink industry and the area as a whole.
Q. What might someone be surprised to know about you?
A.  I have played the piano at Cowdray Hall in Aberdeen and clarinet at the Music Hall.
Q. What's your passions in life or what do you like to do in your spare time?
A. I love football and still enjoy a 5-a-side kick about now and again, although I'm not as fast as I once was!
Q. What's your earliest food memory?
A. I have memories of arranging letters of alphabetti spaghetti. They were both tasty and educational!
Q. What food can't you resist?
A. I love a nice rare steak with all the trimmings.
Q. If you could swap jobs with anyone else, whose would you want?
A. I would love to work in the purchasing department, sourcing all those great products would be really interesting!
Q. Do you have a favourite holiday destination and what's so special about it?
A. I like going to the South of France where the weather is more predictable than Scotland shall we say!
Q. What's top of your bucket list?
A. I would like to secure a seat on a passenger trip to space – just as soon as the price comes down a bit!
Q. Which food do you wish had no calories?
A. Any food containing chocolate!
Q. When are you happiest?
A. Spending time with my wife and our two young girls.