Brand leading & craft beers in bottles, cans, kegs and casks
We are proud to hold extensive stock of local craft ales and brand leading craft beer and cider from across Scotland and the wider UK. These artisan alternatives cater for the latest drinking trends.
Many originate in the Highlands and Islands including:
Applecross Brewing Co, Black Isle Brewery, Cairngorm Brewery, Isle of Skye Brewing, Loch Ness Brewery, Orkney Brewery, Windswept Brewing Company.
These quintessentially Scottish products are made using traditional methods and ingredients and are a true 'Taste of Scotland'. Stirring and emotive names such as Orkney Brewery's Dragonhead and Isle of Skye's Cuillin Beast strike customer imaginations while WooHa and Loch Ness Saaziness introduce a more contemporary note.
Thistly Cross Cider produce unique and award winning traditional and flavoured ciders with a distinctive Scottish story and feel.
Brand leaders including Becks, Budweiser, Corona, Magners, Miller, Guinness, Peroni, Stella Artois and Tennent's also cater for the wider spectrum of consumer tastes.
Available to order now:
From 330ml and 500ml bottles to KeyKeg and casks, there is a style, taste and drinking experience to suit all needs.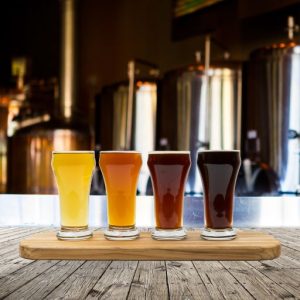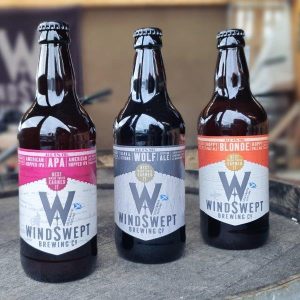 How To order
In addition to calling our telesales team on 0345 450 8888 you can use the documents above to order goods from this category.
Excel File: Simple save to your PC, complete your order along with contact details and upload via our Web Order Form.
PDF file: Print the form, complete using black ink then either Fax us on 0800 028 2953 or scan and upload via our Web Order Form.
| Code | Product Description | Unit |
| --- | --- | --- |
| 65270330 | Becks Blue Beer 24 x 275ml | Case |
| 65208033 | Black Isle Blonde 24 x 330ml | Case |
| 65210033 | Black Isle Goldeneye 24 x 330ml | Case |
| 65203033 | Black Isle Goldfinch Gluten Free Beer 24x 330ml | Case |
| 65279300 | Black Isle NC500 IPA Keg 30 Ltr | Each |
| 65202033 | Black Isle North Coast 500 IPA 24x330ml | Case |
| 65207033 | Black Isle Porter 24 x 330ml | Case |
| 65206033 | Black Isle Red Kite Ale 24 x 330ml | Case |
| 65209033 | Black Isle Yellowhammer 24 x 330ml | Case |
| 65268330 | Budweiser 24 x 330ml | Case |
| 65514050 | Cairngorm Black Gold Beer 12 x 500ml | Case |
| 65236050 | Cairngorm Buzz Beer 12x500ml | Case |
| 65517050 | Cairngorm Gold Beer 12 x 500ml | Case |
| 65511050 | Cairngorm Nessie's Monster Mash Beer 12 x 500ml | Case |
| 65519050 | Cairngorm Santas Sledgehammer 12 x 500ml | Case |
| 65512050 | Cairngorm Sheepshaggers Beer 12 x 500ml | Case |
| 65516050 | Cairngorm Stag Beer 12 x 500ml | Case |
| 65513050 | Cairngorm Trade Winds Beer 12 x 500ml | Case |
| 65510050 | Cairngorm Wildcat Beer 12 x 500ml | Case |
| 65272330 | Corona 24 x 330ml | Case |
| 65265440 | Guinness Draught Cans 24 x 440ml | Case |
| 65251050 | Hollows Gluten Free Ginger Beer Fentimans 8x500ml | Case |
| 65250033 | Hollows Gluten Free Spiced Ginger Beer 12x330ml | Case |
| 65266012 | Innis & Gun Lager NRB 12x330ml | Case |
| 65202778 | KEYKEG COUPLER | Each |
| 65258330 | Lerwick 60 Deg North Lag 12 x 330ml | Case |
| 65253330 | Lerwick Azure 12 x 330ml | Case |
| 65260330 | Lerwick IPA 12x500ml | Case |
| 65533050 | Loch Ness Darkness Black Stout 12 x 500ml | Case |
| 65530050 | Loch Ness Hoppyness I.P.A. 12 x 500ml | Case |
| 65531050 | Loch Ness Lightness Pale Ale 12 x 500ml | Case |
| 65532050 | Loch Ness Lochness Malty Brown Ale 12 x 500ml | Case |
| 65534050 | Loch Ness Saaziness 12 x 500ml | Case |
| 65300568 | Magners Original 12 x 568ml | Case |
| 80606999 | Managed 30/70 Gas | Bulk |
| 80605999 | Managed 60/40 Gas | Bulk |
| 65254050 | Mcewans Export Cans 24 x 500ml | Case |
| 65271330 | Miller Draft 24 x 330ml | Case |
| 65491050 | Orkney Clootie Dumpling 12 x 500ml | Case |
| 65508050 | Orkney Corncrake Ale 12 x 500ml | Case |
| 65502050 | Orkney Dark Island Beer 12 x 500ml | Case |
| 65235050 | Orkney Dark Island Reserve Ale 12x330ml | Case |
| 65507050 | Orkney Dragonhead Stout 12 x 500ml | Case |
| 65202050 | Orkney Gold 24 x 330ml | Case |
| 65498050 | Orkney Gold 8 x 500ml | Case |
| 65505050 | Orkney Latitude Pilsner 12 x 500ml | Case |
| 65504050 | Orkney Nimbus Beer 12 x 500ml | Case |
| 65500050 | Orkney Northern Light 12 x 500ml | Case |
| 65499050 | Orkney Puffin Ale 12x500ml | Case |
| 65501050 | Orkney Raven Ale 12 x 500ml | Case |
| 65503050 | Orkney Red Macgregor Beer 12 x 500ml | Case |
| 65515050 | Orkney Skull Splitter 24x330ml | Case |
| 65506050 | Orkney Three Sisters Ale 12 x 500ml | Case |
| 65269330 | Peroni Nastro Azzura 24 x 330ml | Case |
| 65108050 | Red Castle Arrowhead Lager 12x500ml | Case |
| 65105050 | Red Castle Crusader Pale Ale 12 x 500ml | Case |
| 65107050 | Red Castle Nobleman Golden Ale 12 x 500ml | Case |
| 65106050 | Red Castle Red Lady 12 x 500ml | Case |
| 65104050 | Red Castle Tower IPA 12 x 500ml | Case |
| 65521050 | Skye Black Ale 12 x 500ml | Case |
| 65523050 | Skye Blaven 12 x 500ml | Case |
| 65525033 | Skye Blonde Beer 12x330ml | Case |
| 65524033 | Skye Cuillin Beast 12 x 330ml | Case |
| 65522050 | Skye Gold Beer 12 x 500ml | Case |
| 65526033 | Skye I.P.A. 12 x 330ml | Case |
| 65520050 | Skye Red Beer 12 x 500ml | Case |
| 65527050 | Skye Young Pretender 12 x 500ml | Case |
| 65562050 | Spey Valley David's Not So Bitter 12 x 500ml | Case |
| 65563050 | Spey Valley Spey Stout 12 x 500ml | Case |
| 65561050 | Spey Valley Stillman's IPA 12 x 500ml | Case |
| 65560050 | Spey Valley Sunshine on Keith 12 x 500ml | Case |
| 65256330 | Stella Artois Bottles 24 x 330ml | Case |
| 65301500 | Strongbow Cider Cans 24 x 500ml | Case |
| 65252055 | Tennents Lager Bottles 12 x 550ml | Case |
| 65252050 | Tennents Lager Cans 24 x 500ml | Case |
| 65280033 | Thistly Cross Cloudy 12x330ml | Case |
| 65276033 | Thistly Cross Elderflower Cider 12 x 330ml | Case |
| 65245050 | Thistly Cross Elderflower Cider 12 x 500ml | Case |
| 65274033 | Thistly Cross Ginger Cider 12 x 330ml | Case |
| 65241050 | Thistly Cross Ginger Cider 12 x 500ml | Case |
| 65244050 | Thistly Cross Original 6.2% Cider 12 x 500ml | Case |
| 65275033 | Thistly Cross Strawberry Cider 12 x 330ml | Case |
| 65242050 | Thistly Cross Strawberry Cider 12 x 500ml | Case |
| 65279033 | Thistly Cross Traditional Cider 12 x 330ml | Case |
| 65240050 | Thistly Cross Traditional Cider 12 x 500ml | Case |
| 65240777 | Thistly Cross Traditional Cider KEG 30ltr | Case |
| 65243050 | Thistly Cross Whisky Cask Cider 12 x 500ml | Case |
| 65278033 | Thistly Cross Whisky Cider 12 x 330ml | Case |
| 65509050 | Wooha Blonde 9 Gallon Cask | Each |
| 65249050 | Wooha I.P.A 12 x 500ml | Case |
| 65263300 | Wooha I.P.A. KeyKeg 30ltr | Each |
| 65509133 | Wooha IPA 9 Gallon Cask | Each |
| 65246050 | Wooha Lager 12 x 500ml | Case |
| 65261300 | Wooha Lager KeyKeg 30ltr | Each |
| 65247050 | Wooha Porter 12 x 500ml | Case |
| 65262300 | Wooha Porter KeyKeg 30ltr | Each |
| 65248050 | Wooha Wheat Beer 12 x 500ml | Case |
| 65264300 | Wooha Wheat KeyKeg 30ltr | Each |