Wholesale Wines & Spirits
Williamson Foodservice is an HMRC verified supplier. Our URN is XCAW00000106837
Customers looking for high quality wine brands that are respected by both the trade and with consumers need look no further than our comprehensive wine listings.
Our range offers exceptional quality, value and opportunities to gain great margin at price points customers are looking for. The brands represented appeal to hotels, restaurants, cafés and catering establishments as well as others like golf clubs. If your wine list requirements focus on having a family look or one that offers a selection of varietals and labels, we're confident we can deliver a unique solution for your business.
Stock holding is not an issue with the majority of wines being available in 6-packs and with a large holding of stock in our own warehouse delivery can be next-day. Sizes are available in 75cl and 187ml glass bottles for maximum freshness. A complimentary menu printing service is available through Crown Cellars as well as access to wider, specialist wine advice across a broader range. Ask us for our free wine guide that outlines trends, which wines to select and the options for a successful wine menu.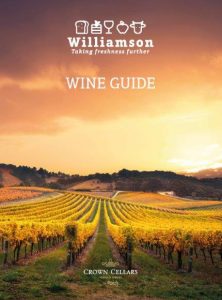 Scottish & Highland Spirits
In response to customer requests we now offer a small but growing range of spirits so that you can keep your drinks line up locally focused.  The range includes Loch Ness Gin, Badchro Gin from the west coast & Snawstorm vodka from the Cairngorms.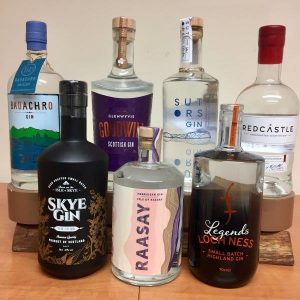 How To order
In addition to calling our telesales team on 0345 450 8888 you can use the documents above to order goods from this category.
Excel File: Simply save to your PC, complete your order along with contact details and upload via our Web Order Form.
PDF file: Print the form, complete using black ink then either Fax us on 0800 028 2953 or scan and upload via our Web Order Form.
If you want to receive any further details on any of these products please contact us.
| Code | Description | Unit |
| --- | --- | --- |
| 65000070 | Redcastle Handcrafted Scottish Gin 70cl | Each |
| 65001070 | Redcastle Handcrafted Scottish Spiced Rum 70cl | Case |
| 65002020 | Redcastle Handcrafted Scottish Gin 20cl | Each |
| 65003050 | Redcastle Raspberry&Pomegranate Gin Liqueur 50cl | Each |
| 65004020 | Redcastle Raspberry&Pomegranate Gin Liqueur 20cl | Each |
| 65005005 | Redcastle Raspberry&Pomegranate Gin Liqueur 5cl | Each |
| 65006050 | Redcastle Blood Orange & Rhubarb Liqueur 50cl | Each |
| 65007020 | Redcastle Blood Orange & Rhubarb Liqueur 20cl | Each |
| 65008005 | Redcastle Blood Orange & Rhubarb Liqueur 5cl | Each |
| 65009050 | Redcastle Fruit & Mango Liqueur 50cl | Each |
| 65010020 | Redcastle Fruit & Mango Liqueur 20cl | Each |
| 65011005 | Redcastle Fruit & Mango Liqueur 5cl | Each |
| 65012020 | Redcastle Spiced Rum 20cl | Each |
| 65013020 | Redcastle RTD Gin & Tonic 5% 12 x 200ml | Case |
| 65014050 | Redcastle Pink Gin 50cl | Each |
| 65016070 | Loch Ness Legends Highland Gin 70cl | Each |
| 65017050 | Loch Ness Absinthe Blanche 50cl | Each |
| 65018010 | Loch Ness Gin 10cl | Each |
| 65019010 | Loch Ness Legends Gin 10cl | Each |
| 65020070 | Isle of Raasay Scottish Gin 70cl | Each |
| 65025070 | J Gow Spiced Rum 70cl | Each |
| 65026070 | J Gow Fading Light Rum 70cl | Each |
| 65030050 | Feragaia Alcohol Free Spirit 50cl | Each |
| 65400018 | Kissing Tree Pinot Grigio 12 x 18.7cl | Case |
| 65401018 | Kissing Tree Zinfandel Rose 12 x 18.7cl | Case |
| 65402018 | Kissing Tree Chardonnay 12 x 18.7cl | Case |
| 65403018 | Kissing Tree Shiraz 12 x 18.7cl | Case |
| 65404018 | Kissing Tree Cab Merlot 12x 18.7cl | Case |
| 65410075 | Kissing Tree Zinfandel Rose 6 x 75cl | Case |
| 65411075 | Prosecco DOC C.Gheller Screw Cap 6x75cl | Case |
| 65412075 | Bortolomiol "Miol" Prosecco 6 x 75cl | Case |
| 65413075 | Eisberg Sparkling non-alcoholic Wine 6 x 75cl | Case |
| 65415075 | Jack & Gina Chardonnay 6x75cl | Case |
| 65416020 | Ponte Prosecco 20cl x 24 | Case |
| 65417075 | Taittinger Champagne 75cl x 6 | Case |
| 65418075 | Moondarra Chardonnay 6x75cl | Case |
| 65422075 | Cote Du Rhone 6x75cl | Case |
| 65423012 | Laderas Merlot 13% 6x75cl | Case |
| 65424012 | Simply Yours Pinot Grigio 12x18.7cl | Case |
| 65425012 | Speak Easy Cab Sauv 14.5% 6x75cl | Case |
| 65430075 | Speed Wah Chardonnay 6 x 75cl | Case |
| 65431075 | El Finatello Malbec 6 x 75cl | Case |
| 65433075 | Lyngrove Chenin Blanc 6x75cl | Case |
| 65434075 | El Cadejo Chardonnay 6x75cl | Case |
| 65435075 | Kissing Tree Pinot Grigio 6x75cl | Case |
| 65436075 | Le Poesie Soave DOC 6x75cl | Case |
| 65437075 | Bonne Nouvelle Chardonnay Alcohol Free 6x750ml | Case |
| 65438075 | Villa Serena Pinot Grigio Rose 6x75cl | Case |
| 65439075 | Neriano Gavi 6x75cl | Case |
| 65440750 | Anapia River Sauvignon Blanc 6x75cl | Case |
| 65441075 | Kissing Tree Shiraz 6x75cl | Case |
| 65442075 | Chianti Giulio DOCG Stracalli 6x75cl | Case |
| 65444075 | Bolinger NV 12% 6x75cl | Case |
| 65445020 | Prosecco Extra Dry Spumante Bortolomiol 24x20cl | Case |
| 65446018 | Kissing Tree Sauvignon Blanc 12x18.7cl | Case |
| 65448075 | Villa Serena Chardonnay 6x75cl | Case |
| 65456075 | Finca de Oro Rioja 6x75cl | Case |
| 65457075 | Cune Crianza Rioja 6x75cl | Case |
| 65458075 | Peter & Peter Pinot Noir 6x75cl | Case |
| 65459070 | Sutors Gin 70cl | Each |
| 65459075 | Las Ondas Pinot Noir Reserva 6x75cl | Case |
| 65461075 | Ponte Prosecco 6x75cl | Case |
| 65462075 | Lanvin Brut 6x75cl | Case |
| 65463075 | Plate 95 Sauvignon Blanc 6x75cl | Case |
| 65464075 | Ponte Gio Bianco 6x75cl | Case |
| 65465075 | Las Ondas Sauvignon Blanc 6x75cl | Case |
| 65466075 | Bad Eye Deer Sauvignon Blanc 6x75cl | Case |
| 65467075 | Ren Sauvignon Blanc 6x75cl | Case |
| 65468075 | Ponte Pinot Grigio 6x75cl | Case |
| 65469075 | Brightside Pinot Grigio 6x75cl | Case |
| 65470075 | Deer Point Chardonnay 6x75cl | Case |
| 65471075 | Spearwood Chardonnay 6x75cl | Case |
| 65472075 | Stellar Running Duck Chenin/Sauvignon 6x75cl | Case |
| 65473075 | Grapeful Dead Chardonnay 6x75cl | Case |
| 65474075 | Lobo Loco Macabeo 6x75cl | Case |
| 65475075 | Millstream Chenin Blanc 6x75cl | Case |
| 65476075 | Ponte Pinot Grigio Rosato/Romato 6x75cl | Case |
| 65477075 | Lyric Pinot Grigio Blush 6x75cl | Case |
| 65478075 | Stellar Running Duck Rose Organic Fairtrade 6x75cl | Case |
| 65479075 | Millstream Rose 6x75cl | Case |
| 65480075 | Ponte Gio Rosato 6x75cl | Case |
| 65481075 | Jack & Gina Zinfandel Rose 6x75l | Case |
| 65482075 | Bad Eye Deer Zinfandel Rose 6x75cl | Case |
| 65483075 | Lobo Loco Tempranillo Rose 6x75cl | Case |
| 65484075 | Plate 95 Merlot 6x75cl | Case |
| 65485075 | Clockwork Raven Merlot 6x75cl | Case |
| 65486075 | Deer Point Merlot 6x75cl | Case |
| 65487075 | Ponte Gio Rosso 6x75cl | Case |
| 65488075 | Gulara Shiraz 6x75cl | Case |
| 65489075 | Bad Eye Deer Shiraz Cab 6x75cl | Case |
| 65490075 | Stellar Running Duck Shiraz Fairtrade Org 6x75cl | Case |
| 65491075 | Las Ondas Cabernet Sauvignon 6x75cl | Case |
| 65492075 | Brightside Cabernet Sauvignon 6x75cl | Case |
| 65493075 | Bone Orchard Malbec 6x75cl | Case |
| 65494075 | Dead Man's Malbec 6x75cl | Case |
| 65495075 | Lobo Loco Tempranillo 6x75cl | Case |
| 65496075 | Millstream Cinsault Ruby 6x75cl | Case |
| 65497075 | Millstream Pinotage 6x75cl | Case |
| 65500075 | Los Haroldas Roble Malbec 13% 6x75cl | Case |
| 65502075 | Chateau Mondain Bordeaux 14% 6x75cl | Case |
| 65503075 | Vina Oria Tempranillo Red 13% 6x75cl | Case |
| 65504075 | Pocket Watch Chardonnay 6x75cl | Case |
| 65505075 | Pocket Watch Shiraz 6x75cl | Case |
| 65506075 | Picpoul De Pinet 6x75cl | Case |
| 65507075 | El Burro Garnacha 6x75cl | Case |
| 65508075 | Vinivision Shiraz/Viognier 6x75cl | Case |
| 65509075 | Hancock & Hancock Shiraz Grenache 6x75cl | Case |
| 65510075 | Andean Vineyards Malbec 6x75cl | Case |
| 65539018 | O&G Malbec 24x187ml | Case |
| 65540075 | O&G Malbec 6x75cl | Case |
| 65541018 | O&G Chardonnay 24x18.7cl | Case |
| 65542075 | O&G Chardonnay 6x75cl | Case |
| 65543018 | O&G Pinot Grigio 24x18.7cl | Case |
| 65544075 | O&G Pinot Grigio 6x75cl | Case |
| 65545018 | O&G Sauvignon Blanc 24x18.7cl | Case |
| 65546075 | O&G Sauvignon Blanc 6x75cl | Case |
| 65547018 | O&G Zinfandel Rose 24x18.7cl | Case |
| 65548075 | O&G Zinfandel Rose 6x75cl | Case |
| 65551075 | O&G Cabernet Sauvignon 6x75cl | Case |
| 65552018 | O&G Cabernet Sauvignon 24x18.7cl | Case |
| 65553018 | O&G Merlot 24x18.7cl | Case |
| 65554075 | O&G Merlot 6x75cl | Case |
| 65555075 | O&G Shiraz 6x75cl | Case |
| 65556018 | O&G Shiraz 24x18.7cl | Case |
| 65557075 | O&G Prosecco Brut 6x75cl | Case |
| 65558020 | O&G Prosecco 24x20cl | Case |
| 65565075 | Finca de Oro Viura Sauvignon Blanc Rioja 6x75cl | Case |
| 65595020 | Segura Viudas Cava Brut 24x20cl | Case |
| 65596075 | Torres Natureo White 6x75cl | Case |
| 65600070 | Glen Wyvis Goodwill Gin 70cl | Each |
| 65601070 | Glen Wyvis Goodwill Gin 12x20cl | Case |
| 65605050 | Isle of Skye Gin (The Storr) 70cl | Each |
| 65608070 | Snawstorm Vodka 70cl | Each |
| 65630070 | Badachro Gin 70cl | Each |
| 65631010 | Badachro Gin 10 x 10cl | Case |
| 65632070 | Badachro Gairloch Coastal Gin 70cl | Each |
| 65652050 | Straw Hat Violet Gin Liqueur 50cl | Each |
| 65653050 | Straw Hat Rasp & Rose Gin Liqueur 50cl | Each |
| 65654050 | Straw Hat Rhubarb & GingerGin Liqueur 50cl | Each |
| 65751500 | Cairn o Mohr Pictish Cider 12 x 500ml | Case |
| 65752500 | Cairn o Mohr Berry Pictish Cider 12 x 500ml | Case |
| 65753500 | Cairn o Mohr Pictish Meadowsweet Cider 12 x 500ml | Case |
| 65754500 | Cairn o Mohr No Alcohol Cider 12 x 500ml | Case |
| 65761075 | Cairn o Mohr Strawberry Wine 6x75cl | Case |
| 65762075 | Cairn o Mohr Raspberry Wine 6x75cl | Case |
| 65764075 | Cairn o Mohr Elderberry Wine 6x75cl | Case |
| 65765075 | Cairn o Mohr Gooseberry Wine 6x75cl | Case |
| 65766075 | Cairn o Mohr gangs wi' Haggis Wine 6x75cl | Case |
| 65771075 | Cairn o Mohr Sparking Strawberry & Elder 12x75cl | Case |
| 65772075 | Cairn o Mohr Sparkling Gooseberry & Elder 12x75cl | Case |
| 65773075 | Cairn o Mohr Sprk Elderf Non-Alc Drink 12x75cl | Case |
| 65774075 | Cairn o Mohr Sprk Elderb Non-Alc Drink 12x75cl | Case |