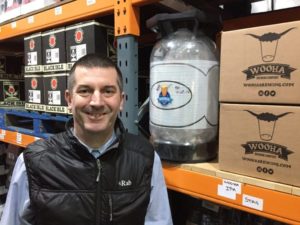 Focus on Williamson Staff
To develop more effective partnerships with customers, Williamson Foodservice regularly highlights what different members of staff do within our business. This gives more of an insight into our company and hopefully improves the relationship we have with customers.
Andy Barbour
Field Sales Representative, Spanish Rioja drinker and mountain biker
Andy Barbour is the face and voice that many of our customers are most familiar with. He has been at Williamson Food Service for two years. When he's not following up customer orders or queries at our Walker Road headquarters, he's out on the road meeting clients face-to-face.
He covers Caithness and Sutherland as well as Lochaber but can deal with hospitality, catering and retail establishments from across the whole of the north of Scotland – an area the size of Belgium!
Q. How did you get into the food and drink industry?
A. I worked on van sales with one of Williamson's biggest suppliers of chilled food products.
Q. How did you first learn about Williamson Food Service?
A. Having spent 17 years selling food in the north of Scotland with different companies, I found Williamson's has always been a well-respected brand with the catering trade.
Q. What are three words that best describe Williamson Food Service?
A. Service | Local | Produce
Q. What do you like most about your job?
A. I love being out on the road meeting such a diverse range of customers from hotels and restaurants to hospitals and delicatessens. There's also a great team atmosphere here.
Q. What's the most challenging part of your job?
A. Competitors will often work on very low margins to get a foothold so we need to work hard to differentiate our overall product offering. We do this by focusing on product quality, attention to detail and developing effective long-term customer partnerships.
Q. What products can customers expect to be hearing more about in 2018?
A. We're really looking forward to further progression on wet sales like craft beers and the exciting growth the gin market is currently experiencing.
Q. What are your hopes for the food and drink industry?
A. As product provenance becomes increasingly important to customers, I hope the use of locally sourced, fresh goods continues to grow.
Q. What's your passions in life or what do you like to do in your spare time?
A. I love the outdoors so cycling or walking.
Q. What three things would you take if you were stranded on an island?
A. Case of Spanish Rioja, my mountain bike and err, my wife of course!
Q. What's the most interesting thing you have learned in the past 12 months?
A. How fast gin can be made and then sold – it's incredible.