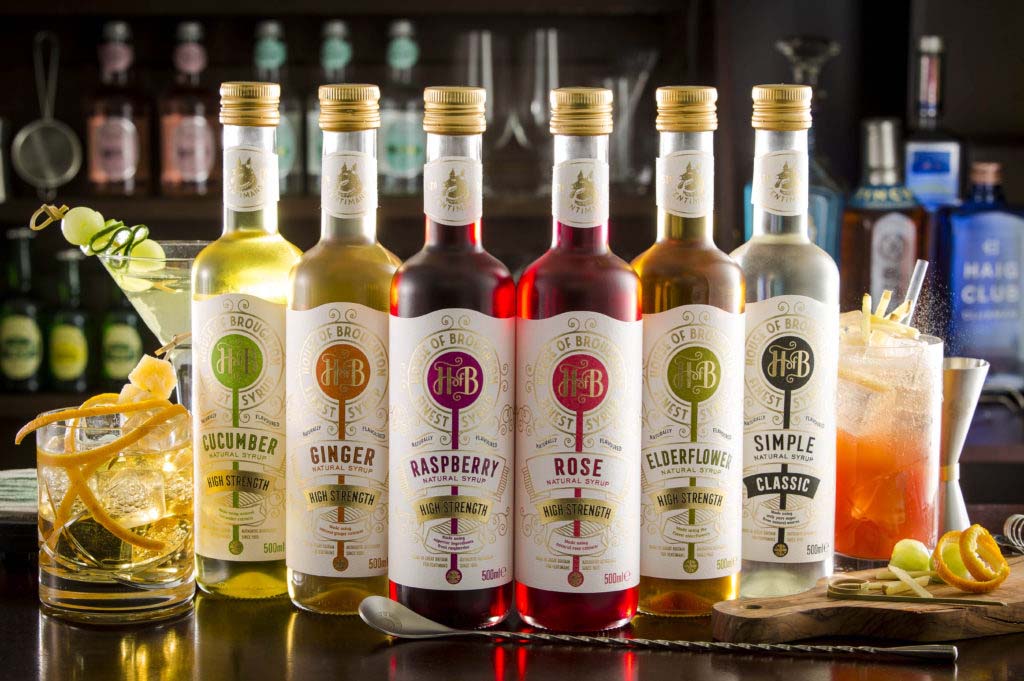 With the cocktail market accounting for six per cent of all spirit sales and its growth predicted to reach 10 per cent by 2020* cocktail consumers are becoming increasingly important to sales success as they spend more than their non-cocktail drinking counterparts.
Cocktail consumers increasingly look for more innovative, high quality beverages therefore engaging with this group with a suitable provision can bring revenue benefits to the average outlet in the north of Scotland's hospitality, bar and restaurant trades.
Enter House of Broughton syrups from soft drink and mixer brand Fentimans which have been crafted to create superior tasting cocktails and mocktails. They are made using natural extracts too.
The taste of a cocktail or mocktail is defined by the ingredients used and a bartender's ability to successfully blend them together to achieve the optimum balance of flavour, sweetness and sourness. House of Broughton Syrups contain the same amount of sugar as traditional syrups (62 brix). However, their flavour strength is much higher meaning that less syrup is added to drinks to achieve the desired flavour target. Using less syrup means using less sugar which avoids over-sweetening.
Should the bartender wish to add additional sweetness to their drink then the House of Broughton Simple Syrup made using only pure sugar from natural sources can be used. Alternatively, if a sour ingredient is required to balance sweetness levels, then a smaller dose is needed which reduces the potential of the sour ingredient to tarnish the desired flavour of the drink.
All of this provides the bartender with extra control over the balance of flavour, sweetness and sourness, enabling them to create superior tasting cocktails and mocktails. Using House of Broughton Syrups to make great tasting drinks containing less sugar also provides an attractive offering to increasingly health conscious cocktail and mocktail drinkers.
The House of Broughton line-up comprises:
Cucumber: coolness, delicate, grassy, green and lightness.
Ginger: earthy, lemony/citrus, pungent, spicy and warming.
Rose: elegant, English garden, floral and light summertime.
Elderflower: creamy, delicate, floral, fragrant, fruity, fresh, honey and summery.
Raspberry: berry, fresh, fruity, jammy, juicy and a pleasant sharpness.
Simple: a convenient source of sugar to add sweetness alone to drinks.
To enable bar tenders to make the most of the intense flavours, Fentimans has created a guide to creating high-impact, reimagined recipes of classic cocktails including the Cucumber Mary, Ginger Mojito and Whiskey Sour and new creations such as the luxurious Velvet Rose available at www.fentimans.com/drinks/house-of-broughton.
All House of Broughton syrups are featured in our Christmas brochure that can be download here: https://www.williamsonfoodservice.co.uk/current-promotions
Alternatively, try calling 0345 450 8888 to place an order or speak to a member of Williamson Foodservice staff.
* Data Source – CGA Mixed Drinks Report 2016
Adapted from a House of Broughton/Fentimans original blog.