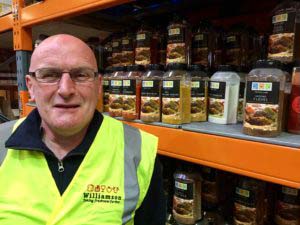 Focus on Williamson staff
This staff member profile will hopefully give our customers more of an insight into our business and help improve the relationship we have with you. Let us know what you think!
Raymond Slaney, Drystore Supervisor
Keen gardener, Chinese food fan and Richard O'Brian lookalike.
Raymond manages a team of 10 in our drystore who put together customer orders on a wide range of ingredients from spices, baking products and kitchen basics like flour and milk to our extensive range of soft drinks, craft beers and other beverages like coffee and tea. He makes sure drystore orders are efficiently transferred to our main warehouse where they are married up with fruit and vegetable ones so they all get delivered together.
Q. How did you first learn about Williamson Food Service?
A. I'd been out of work for a while when a friend said that Williamson's was looking for warehouse staff – that was 10 years ago.
Q. What are three words that best describe Williamson Foodservice?
A. Reliable | Efficient | Fun
Q. What do you like most about your job?
A. Every day is different and the staff here are pretty good craic! There's always a bit of fun to be had in between the work.
Q. What's the most challenging part of your job?
A. We aim to get orders 100% right and delivered in the best condition possible so trying to minimise damaged or incorrectly delivered goods is something we strive for on a daily basis.
Q. What does a typical day look like for you?
A. Preparation is key, especially during the summer and into autumn when we are at our busiest. We have delivery vehicles arriving with new stock throughout the day so this needs unloaded and stacked in the warehouse without delay. Making sure our staff know what is required and when, enables orders to be processed efficiently and I speak to our buyers throughout the day to ensure there is always a plentiful supply of stock.
Q. What are your hopes or ambitions for the food and drink industry?
A. Hopefully that it continues to grow and we find new and interesting products for Williamson's customers to be excited by.
Q. What might someone be surprised to know about you?
A. I'm a keen gardener so as well as being a busy time of the year at Williamson's, it's also been all go in the garden with plants and flowers coming through.
Q. What's your earliest food memory?
A. Bread and butter and sugared 'pieces'!
Q. What food can't you resist?
A. I absolutely love Chinese – Chicken Chow Mein is my favourite.
Q. What's your passions in life or what do you like to do in your spare time?
A. Apart from the garden, I like a flutter on the horses on a Saturday!
Q. What three things would you take if you were stranded on an island?
A. A nice bottle of malt whisky, a beer or two and a fishing rod to pass the time would do just nicely.
Q. Is there a celebrity you most look like?
A. Apparently my fruit and vegetable colleagues think I look like Richard O'Brien of Crystal Maze fame.
Q. What book did you read last?
A. Anne Frank, The Diary of a Young Girl.
Q. When are you happiest?
A. I love to get a winner on the horses but my colleague Gavin finishing his shift comes a pretty close second (only kidding Gav! -R)