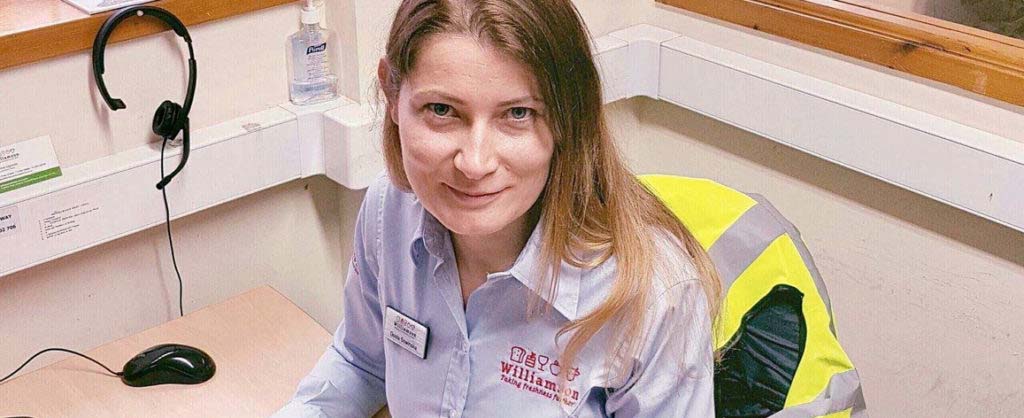 Focus on Williamson staff
In order to develop even more effective partnerships with customers, we now feature a member of staff in these brochures. This will hopefully give you more of an insight into our business and help improve the relationship we have with you. Let us know what you think!
Gosia Sowinska, Buyer
Gosia works as part of a three strong team buying dry goods for the business. These can include premium soft drinks, craft beers, fine wines and dairy as well as selected spices, pulses, oats and other ingredients. She maintains contact with suppliers of these products who are based all over the UK and ensures adequate stocks are held to satisfy customer orders the minute they are phoned in by customers.
Q. How did you get the job with Williamson's?
A. Initially, I came from Poland for two weeks in 2006 and worked picking customer orders in the run up to Christmas. Since 2009, I have been a member of the very busy purchasing team.
Q. What are three words that best describe Williamson Food Service?
A. Professional | Trustworthy | Friendly
Q. What do you like most about your job?
A. I get to spend money on a wide range of high quality produce which, as most women will agree, is very satisfying! However, that comes with a high level of responsibility too!
Q. What's the most challenging part of your job?
A. Understanding the interdependent relationships between suppliers, ourselves and customers is a challenge. However, it is definitely one big team effort here – everyone has a role to play. As we approach the busiest time of the year, buying the right level of stock to satisfy customer orders requires careful management too.
Q. What does a typical day look like for you?
A. I monitor stock levels continuously and re-order items to make sure we can meet demand for customer orders. I therefore need to speak to suppliers regularly to negotiate costs, explore availability and get them delivered on time. I also need to consider new or alternative products that come out and discuss their suitability with other Williamson's staff.
Q. What products can customers expect to be hearing more about in 2017?
A. Local produce is always in demand so fresh salads, soft fruits etc but artisan bakery and dairy products are also very strong too.
Q. What are your hopes or ambitions for the food and drink industry?
A. I just hope that the tourism, hospitality and general food and drink sector continues to steadily grow.
Q. What food can't you resist?
A. Dark chocolate, eggs and Scottish Black Pudding!
Q. If you are eating out, which style of food do you prefer?
A. Indian and Italian.
Q. Favourite quote or line from a movie?
A. 'Live each day as if it's your last.'
Q. What's your passions in life or what do you do in your spare time?
A. Cycling, gym and going on holidays to different destinations.
Q. If you could swap jobs with anyone else, whose would you want?
A. I'd love to be out on the road visiting different parts of the beautiful Highlands meeting customers face-to-face like our Field Sales Representatives Louise and Andy.
Q. Do you have a favourite holiday destination and what's so special about it?
A. It would have to be sunny Cuba or Hawaii with their vibrant cultures, people and sandy beaches. Alternatively the Italian Dolomites – for its mountains, snow and food!
Q. What's top of your bucket list?
A. To go to the Maldives and do a parachute jump!
Q. Which food do you wish had no calories?
A. Dark chocolate and nuts.
Q. When are you happiest?
A. When travelling to challenging holiday destinations with my husband.