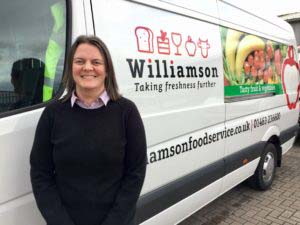 Focus on Williamson staff
This staff member profile will hopefully give our customers more of an insight into our business and help improve the relationship we have with you. Let us know what you think!
Louise Beattie, Field Sales Representative
Chatterbox, wannabe food inspector and world traveller.
Louise is one of two field sales reps at Williamson's. For many of our customers, she is the face they see the most and is out on Highland roads all year round covering everywhere from Inverness City to the Isle of Skye. She helps customers including chefs, owners and other staff to understand how our product range can help meet their needs in a cost effective and profitable way.
Q. How did you get the job with Williamson's?
A. I was made redundant by a competitor and got a job in telesales at Williamson's. This post was a great way to get to know the product range and my 20 years of food industry knowledge also helped when Williamson's was expanding – especially their 'dry' goods range.
Q. What are three words that best describe Williamson Foodservice?
A. Loyal | Local | Potential
Q. What do you like most about your job?
A. I work with a great bunch of people, customers are so friendly and the scenery isn't bad either!
Q. What's the most challenging part of your job?
A. I've always been rubbish at getting up in the morning!
Q. What does a typical day look like for you?
A. Visiting customers and helping them find products that meet their needs as well as doing dry goods comparisons for them are the big ones but meeting suppliers regularly to improve product knowledge is another.
Q. What gives you the most satisfaction in your role?
A. Promoting or discussing new product lines with chefs and business owners helps generate new menu ideas that hopefully excite customers.
Q. What products can customers expect to be hearing more about?
A. A new coffee range aimed at different parts of the market has been launched. This is part of a great value 'CORE' range that also includes cakes and cleaning products too.
Q. What are your hopes or ambitions for the food and drink industry?
A. I hope the growing hospitality sector manages to attract new and talented staff to help meet demand. We sponsor a local Schools Masterchef competition to help promote hospitality with young people.
Q. Name something that would surprise people about your role?
A. I'm not big on fruit and there are certain cheeses I'm fussy about too! Apart from that, I eat practically anything!
Q. What's your earliest food memory?
A. 'Happy Faces' biscuits and salad cream sandwiches!
Q. What's your passions in life or what do you like to do in your spare time?
A. Badminton, eating out, gigs (especially 80s and 90s), travelling and a wee flutter on the football or horses.
Q. If you could swap jobs with anyone else, whose would you want?
A. I'd love to be a food guide inspector.
Q. Do you have a favourite holiday destination and what's so special about it?
A. Croatia is absolutely stunning from its fabulous beaches and food to amazing islands, and terrific nightlife.
Q. If you had one meal to choose what would it be?
A. One of our customers makes incredible lamb croquettes with pea puree. Delicious!
Q. Are there any words or phrases that you either overuse or people know you for?
A. My colleagues say I use too many words in general! I'm always yapping!
Q. What's top of your bucket list?
A. I'd love to take time out to travel by train through Europe.