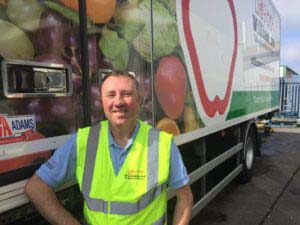 Focus on Williamson staff
This staff member profile will hopefully give our customers more of an insight into our business and help improve the relationship we have with you. Let us know what you think!
Nigel McEwan, Warehouse Supervisor
Darts supremo, tapas eater and long distance pancake tossing champion.
Nigel is in charge of production on the floor of our main warehouse where orders all come together before they are dispatched to customers in our fleet of 30 vans and lorries. He makes sure customer orders are palletised and then loaded up with the right invoices so that customers receive their goods on time and in the right place.
Q. How did you first learn about Williamson Foodservice?
A. I started at Williamson's about 10 years ago having seen their vans around Inverness when I was working for a rival company.
Q. What do you like most about your job?
A. I like the fact my job is challenging and demanding but I try to meet these pressures with determination each day.
Q. What's the most challenging part of your job?
A. Busy summers means getting customer orders organised, made up and loaded in time for vehicles leaving for destinations around the Highlands and Islands. We deliver as far as the Isle of Skye, Lochaber and the Western Isles as well as the north west Highlands, Inverness and Moray too!
Q. What does a typical day look like for you?
A.When I get into work at 10am, I will pick some special fruit and vegetable orders when stock arrives on the daily articulated lorry from Glasgow. These are orders customers request to satisfy specific menus, specialisms or seasonal offerings. We can just about source any produce a chef needs these days with a little notice but we carry a warehouse full of produce that is always available!
Q. What products can customers expect to be hearing more about?
A. Local soft fruits and salads dominate the late Spring and Summer seasons but heartier crops like broccoli and root vegetables come to the fore during Autumn and Winter.
Q. What might someone be surprised to know about you?
A. I once tossed a pancake, the length of Church Street in Inverness!
Q. What's your earliest food memory?
A. I hated onions as a kid and would ping them off my knife, much to my parents displeasure!
Q. If you are eating out, which style of food do you prefer?
A. I do enjoy a good steak or tapas where there's plenty of choice/variety.
Q. What's your passions in life or what do you like to do in your spare time?
A. I play darts in the local Inverness league and have won competitions in the past! I also once beat professional darts champion Michael van Gerwen – the current world number 1 player!
Q. If you could swap jobs with anyone else, whose would you want?
A. Some of the early morning delivery drivers here at Williamson Foodservice are going home each morning at 10am just as I am about to start my shift so that would be quite nice for a while!
Q. If you had one meal to choose what would it be?
A. Steak with scallops!
Q. Are there any words or phrases that you either overuse or people know you for?
A. I'm always using cockney rhyming slang for a laugh.
Q. Which food do you wish had no calories?
A. I've got a bit of a sweet tooth, so any dessert!
Q. When are you happiest?
A. I enjoy trips to the racecourse to watch horse racing. A beer or two and winning a few quid always rounds the day off nicely.