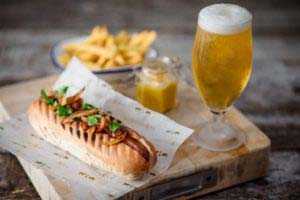 Spring was a busy time for everyone at Williamson Foodservice as we took 'Walkabout' trade shows to Stornoway (March) and Fort William (April). It was wonderful to meet many existing customers and several new ones face to face. I greatly appreciate the effort those attending made by engaging so enthusiastically with us as well as the suppliers who accompanied us at these events.
As we leave Spring behind and having enjoyed some glorious weather throughout May and early June, reports from around the Highlands and Islands indicate the hospitality and catering trade is showing more signs of growth and we at Williamson Foodservice would echo this experience.
To help customers make the most of the summer peak season we have introduced some exciting new products and flavours to our wholesale business. These include a new line in handmade and craft smoked artisan hot dogs as well as Rodda's Clotted Cream. Whether you are providing barbecue banquets or afternoon teas, these premium products are sure to maximise customer satisfaction and profits.
During May we devoted a significant amount of energy into developing a new chilled range with retailers in mind. These products include cooked meats, bacon and sausages to snacks, sandwiches and dairy products. I am glad to say interest has exceeded expectations and we hope to refine and add to this range going forward to help satisfy demand, maximise convenience and offer great value.
Illustrating our commitment to local products and continually championing provenance, other items to look out for that have just been launched include Highland Crackers. This is a true artisan product with Great Taste Award accreditation. They are highly adaptable in their ability to grace any high end or fine dining cheeseboard or are a worthy alternative to bread or oatcakes when accompanying soups.
Recently launched herring products from the Orkney Herring Company are prepared in marinades that create soft textures, delicate flavours and are great as the centrepiece in starters or within seafood platters.
Our launch of Sutherlands Cakes earlier in the year has shown there is good demand for a different cake offering that complements others in our product range. Sutherlands offer high value, great margin and some real classics from empire biscuits and Viennese whirls to gypsy creams and Madeira loaf. Most of these come with very healthy shelf lives which helps cafés, coffee shops and tea shops plan better, minimise waste and maximise repeat custom.
All of the products mentioned in this piece can be found in our recently launched June/July brochure which can be downloaded here. In other news, we recently took delivery of another two 18 tonne bespoke lorries following the two we put on the road last year. These will be complemented by six new refrigerated vans that will be dropping your deliveries off from later in June onwards. These considerable investments underlines our commitment to 'Taking freshness further' and making sure deliveries reach you in optimum condition.
Finally, I would like to pay tribute to a stalwart of Williamson Foodservice in Kenneth Afrin who we lost in the Springtime. He fought his illness so bravely and along with many of our customers, we happily remember his considerable presence in our sales office. He is greatly missed by everyone.
Best wishes,
Gary Williamson, Managing Director