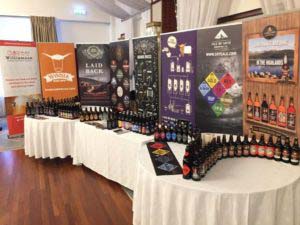 As we all officially get a Spring in our stride at this time of year, we have been busy organising and delivering two trade shows in different parts of the Highlands.
Our Williamson Walkabout trade event in Stornoway during March has already taken place and we are very pleased with the results. We saw nearly 100 customers on the day who really appreciated meeting several of our key suppliers in person. The show featured over 40 other food and drink manufacturers from all over the UK that represented a good cross section of our 3,000 product range.
We are now preparing ourselves for the next trade event which is scheduled at the Moorings Hotel near Fort William on 25th April. I hope as many of you from the Lochaber area can come along as possible! We have a special 'one-day only' catalogue full of great offers but you have to attend to qualify for these
In Lochaber, virtually every exhibitor will have a manned presence so, as well as meeting many of our own staff, we will have 35-40 suppliers attending in person too. They will be there to help explain our range and how to increase your returns, cater for your market more effectively and offer new options you may not be aware of. With spaces filling up already, guarantee your places by logging on to www.foodwalk.co.uk. Both these shows help join up the food sector in these areas and results in better product knowledge and awareness.
The Lochaber event also comes at an ideal time as our daily Monday to Saturday delivery schedule down the Great Glen and into Fort William and the surrounding area starts to prove popular with both existing and new customers.
Our recently launched April/May issue introduces a range of foodservice sized Müller yoghurt to help satisfy guests at breakfast time. Innovative one cup coffee filters from Café Express are also available for the first time. These give that real coffee taste in a convenient and novel package that your customers are sure to be talking about. We also feature high quality deli and fine dining ingredients that produce the wow factor in higher end dishes.
Recently we've been speaking to a small selection of craft breweries about cask and KeyKeg options and you will see these gradually introduced over the summer. The WooHa Brewing Co and Thistly Cross Cider are leading the way on this. Understanding the need to refresh your cask and KeyKeg offering on a regular basis, WooHa are launching 'Off Kilter' in April as a special edition Scotch Ale and this will be quickly followed by 'Sunshine IPA' in May – so watch this space! These options can all really help your business capitalise on the demand for local/Scottish craft beers – and most importantly keep customers coming back for more. Please remember we can assist with couplers, lines and POS material to support your offering.
We have also recently taken in a good quality and high value cake option in Sutherlands Cakes. They offer excellent margin possibilities either on their own or as part of your wider traybake/cake offering. Sutherlands has been supplying cakes and traybakes for over 10 years and we are carrying 74 lines including cakes, sponges and muffins to biscuits, tray bakes and loaves. Several of these options come individually wrapped which give customers maximum confidence and convenience. Find out more about these on our website.
As Spring becomes established, foraged produce will again come to the fore so do ask about what we have in season. In the meantime, as we put a pretty cold winter behind us, I look forward to meeting old faces and new at our trade event in Fort William on 25th April where I hope we can help you explore new possibilities, increase your margins and meet your food and drink goals.
Here's to a successful 2018 season for everyone in the north's food and drink sector!
Best wishes,
Gary Williamson, Managing Director