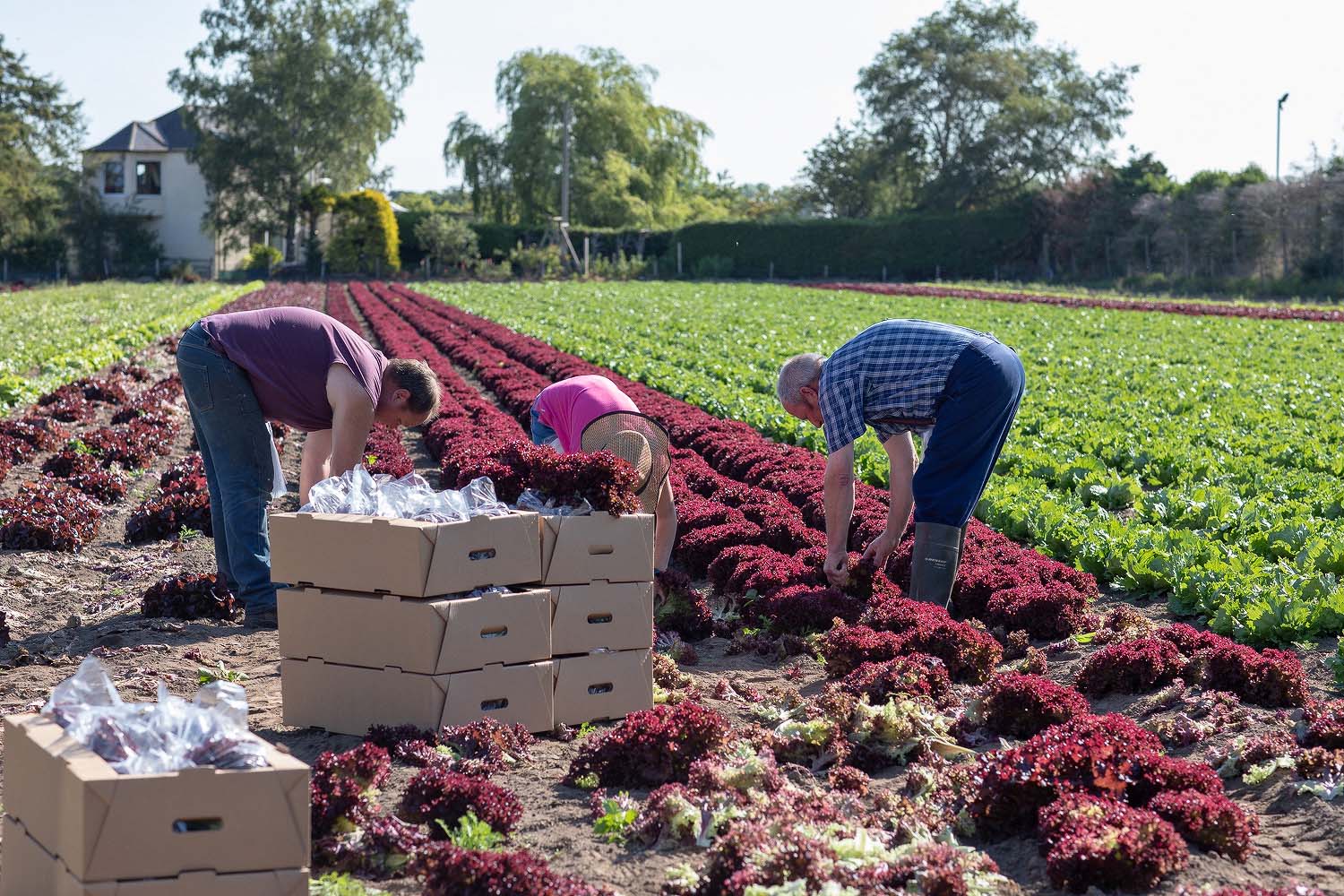 A TRIP TO MORAYSHIRE SEES US CATCH UP WITH STALWARTS OF LOCAL PRODUCE THE REID FAMILY. AMONGST PERFECT ROWS OF FANTASTIC PRODUCE, WE STUMBLE UPON A RECYCLED WILLIAMSON'S RELIC FROM YESTER-YEAR AS WELL AS A SECRET TRACTOR MUSEUM.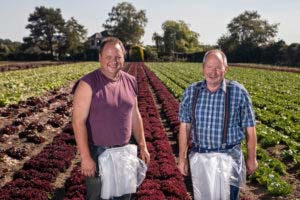 At Williamson Foodservice the concept of 'family' extends to our suppliers and having greeted many of these at our Walkabout trade show in Inverness earlier this year, it was time to get back to our roots and visit a local farm where much of our seasonal and fresh produce is sourced.
Enter father and son team Robert Reid Snr & Jnr who have supplied Williamson Foodservice with high quality, locally sourced produce for many years. Their Morayshire holding which has been farmed by their family since the 1940s is spread across two locations at Kinloss near Forres. It is situated just 25 miles from our main warehouse operation in Inverness.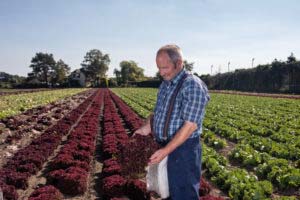 The two Roberts took time to explain the delicate balance they need to find with challenges like the weather. When we met them hand harvesting Lollo Rosso from perfectly long straight 'drills' of these deep ruby red and very delicious salad leaves, the sun was beating down on us. The ups and downs of this years summer with hot temperatures in June followed by many torrential downpours in July has made this year particularly challenging.
On either side of the Lollo Rosso was Oakleaf and as its name suggests this is a much leafier salad that provides chefs with a different texture to work with complementing the Lollo's vivid red. Iceberg lettuce and more traditional Flat Lettuce are also in abundance. The leaves being harvested were on their way to Inverness by lunchtime and in the kitchens of Williamson's customers then onto the plates of diners across the Highlands within 24 hours.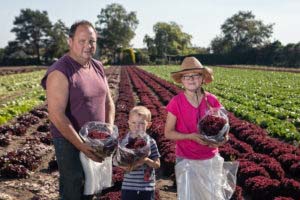 These salad crops are planted from Springtime and staggered across the rest of the Summer to be harvested up until the early frosts of October and November. This phased approach to planting ensures the crop isn't ready all at once and gives chefs a plentiful supply of local product for as long as possible. It also guarantees that all important provenance and local story the end consumer is increasingly interested in knowing about these days.
Chatting to the Reid's, we raised the subject of how much land they farm and the figure of around 65 acres was mentioned. Fair enough you might think, but if you consider a football pitch is about 1.5 acres and the Reid's employ no-one but themselves, you really do have to take your hat off to this hard working local supplier who is so highly committed to quality.
Not only this, but it's not difficult to work out how much of this wonderful produce is destined for our warehouse in Inverness because the simple answer is… it's all for Williamson's! Although some of this land is held over for barley which helps with crop rotation and is used in whisky making, the other produce we buy is vegetables. This includes broccoli, cauliflower, cabbage, potatoes and Romanesco (Romanesque).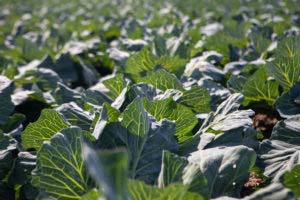 A quick five minute drive took us to where these crops are located in another part of Kinloss that is straddled by the main Inverness to Aberdeen rail line. Like the salads, perfect rows of maturing 'greens' are in abundance in these lovely rich soils and all are staggered to ensure these last all the way to the end of the year and provide a local and tasty supply of Brussels Sprouts in time for Christmas.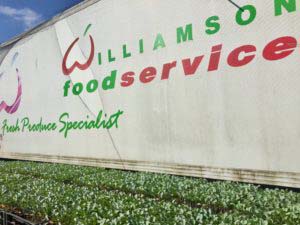 A quick hop back to the farmyard and around a corner we stumble on a refrigerated box container salvaged from the back of a scrapped Williamson's delivery lorry from a bygone era – and our old logo is still just about legible! In a wonderful act of recycling and something that had slipped our minds, the container is now the home for this morning's salad leaves that are kept luxuriously cool before being uplifted for their short journey through to Inverness.
Whilst it's tempting to stay in the cool of the trailer while it bakes outside, our couple of hours with the Reid's came to a close with an impromptu photo call that nicely contrasts young and old together in perfect harmony – the Reid's  have a number of older Massey Ferguson tractors in a sublime state of preservation and something the Reids' children have enjoyed being part of over the years.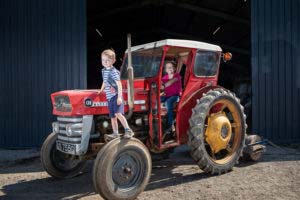 The Reid's 'wee' collection of about a dozen Massey Ferguson's sees machines from the 1980s sitting alongside their more modern counterparts. Incredible as it may sound one or two are still seeing active service. In a world of mass production, it is humbling to see farming techniques, approaches and machinery still alive and kicking as well as profitable and viable. Long may that continue!