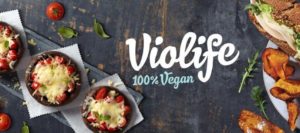 The fantastic weather this summer has created a major talking point for us all and contributed to increased demand as well as interesting shifts in trading patterns. For example, demand for soft drinks – particularly healthier varieties with less sugar – has shown good growth. However, customers are also increasingly switching on to the improved margin potential of premium soft drinks.
During 2018, vegan diets have come to the fore in the press and media. To cater for this growing segment of the market, we now stock an interesting cheese range from Violife. This means many of your regular dairy cheese based recipes can be easily adapted.
Artisan cheeses from dedicated cheesemaker David Eaton who is based in Campbeltown incorporate both Isle of Kintyre flavour-blended cheddars to Howgate brie and blue cheeses. David is also the man behind the Inverloch Cheese brand that focuses on Drumloch Traditional – an award winning creamy cheddar. These feature in our recently launched September/October special offers brochure.
I also took to the fields recently and visited one of our local growers of salads and vegetables near Kinloss in Moray. A catch-up with father and son team Robert Reid Snr and Jnr was well overdue and reminded me of how important the story of locally grown produce is to the hospitality and catering sector. The incredible quality, freshness and flavour of their produce is right on our doorstep and is very satisfying to see.
Elsewhere, Skye Brewery – who are our top selling brewery – have launched Tarasgeir, a peat-smoked malt with a delicate smoky aroma. It also comes in 500ml bottles which we find is the optimum size and what your customers expect these days.
Building on our work earlier in the summer developing a range of chilled retail products, I am glad to say the choice here is greater than ever. We are investigating new additions all the time and I hope this carries us well into the winter with an extensive listing of both high quality chilled and dry retail products.
Whether you are in hotels, catering, restaurants or retail, or any other part of the north food and drink sector, I hope the momentum generated this summer carries us all into the autumn in good spirits and that we continue to extend the season into the winter for as long as possible.
Best wishes
Gary Williamson, Managing Director