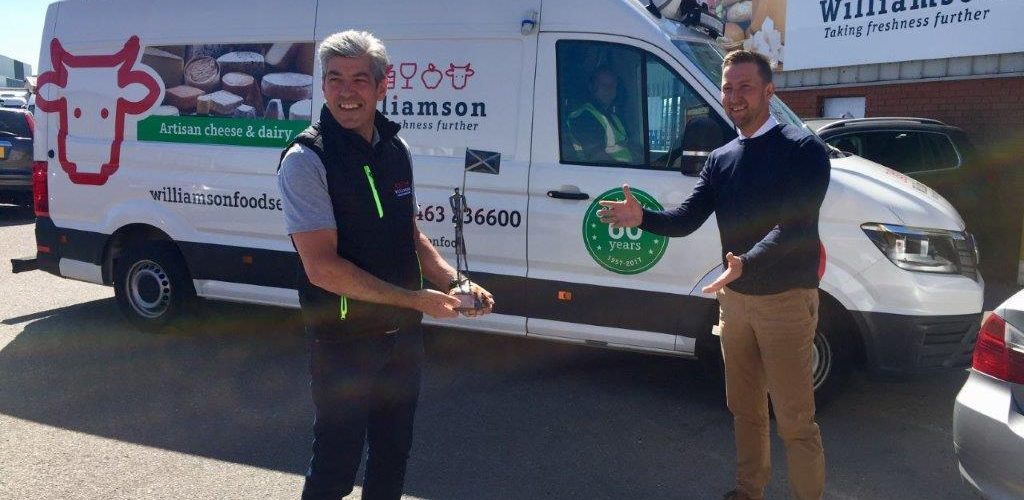 Williamson Foodservice has been honoured with a top award by Scottish Council Development and Industry (SCDI) for its community work during the pandemic. The Highland spirit and resilience award, sponsored by the Highland Council was the culmination of a sustained effort by everyone in the business.
Around 85 per cent of our hospitality and catering trade ceased overnight due to the national 'Stay at Home' policy. As a result, householders, particularly in rural areas, started to shop increasingly at their local grocery stores. They were allowed to continue trading due to their 'essential service' status.
Local retailers rise to the challenge
These independent retailers came back to us with increased weekly orders to cater for the rising demand.
Our buyers subsequently took the initiative, re-organising and re-negotiating with suppliers all over the UK. This was at a time when they had their own pandemic challenges and those presented by Brexit to contend with. It also paved the way for new product requests and product categories to come on stream.
Having taken the plunge to develop a retail offering about three years ago, servicing north retailers during Lockdowns helped minimise some losses. Co-operation within the supply chain was key and staff took a proactive involvement in serving north communities. This included those taking and making up orders to drivers and office staff alike.
Consumer offering
In order to further bolster the viability of staying open, a number of employees worked tirelessly to adapt and develop internal systems and procedures. Originally designed with trade/wholesale customers in mind these were re-engineered to accommodate selling direct to the public.
Ness Valley was born as a result, delivering direct to the householder's door in our immediate hinterland of Inverness and the surrounding areas of Nairn, Dingwall, Alness and Invergordon. We are proud to have offered this service. It allowed those shielding to source regular groceries at a time when supermarket slots were scarce.
Serving the community
Rural enquiries from outwith the Ness Valley delivery area also started to materialise. In order to protect valued relationships with our independent retailers, these were either directed towards these local shops or, where there was no alternative, a community hub was introduced.
This meant householders from odd pockets of grocery need, could order goods from a specially developed online presence (portal). Their goods were delivered to a central hub for shopping to be conveniently collected. This worked extremely well for these remote geographical communities including South Loch Ness and the Isle of Eigg to Kintyre and Rum.
Helping families in need
Our community effort didn't stop there though. As many of our delivery vehicles were at best half full, we also helped fill this excess capacity with deliveries of donated food via Community Food Initiatives North East. They needed a transportation answer to get these essential supplies to northern community groups for onward dispersal to vulnerable individuals, families and communities. In the first five months of 2021, this amounted to the equivalent of transporting about 49,000 meals.
The challenges Williamson Foodservice and Ness Valley was presented with demanded hard work, innovation and above all a strong sense of community. We rose to these and the services to communities are still available. Although we're not out of the woods yet, it is pleasing to see some sense of normality returning.
All of these factors drew the judges' towards our SCDI application for community spirit and resilience. We are delighted to receive such positive and heartfelt comments as well as such a prestigious and attractive award.