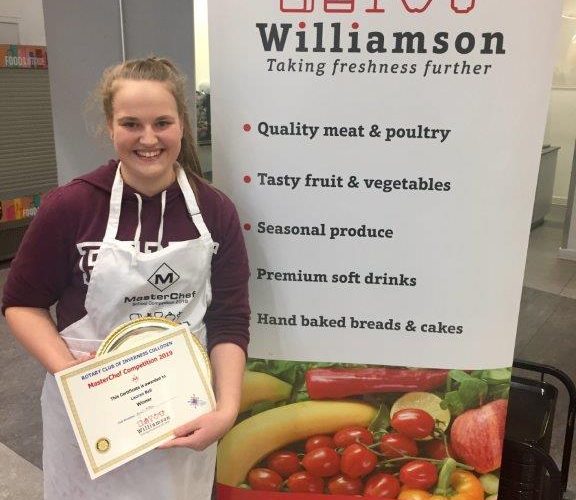 A local school cooking competition that is sponsored by Williamson Foodservice has served up its most successful event to date.
Lauren Bell from Dingwall Academy was crowned the winner of the Inverness and Culloden Schools Masterchef competition on the evening of Tuesday, 26th November, 2019.
It is the culmination of three months of heats, a semi-final and final. Food writer and founder of Kinloch Lodge on the Isle of Skye Lady Claire Macdonald and head chef at Kinloch Lodge Marcello Tully judged the final cook off and presented the trophies.
The event took place at Inverness College UHI. The college provided access to their professional kitchen and venue facilities. Around 60 friends and relatives of competitors as well as teachers and local chefs attended the event.
Lauren won through her school qualifying round, a semi-final against five other schools and last night's final to be crowned Schools Masterchef champion in Inverness & Culloden for 2019.
Record number of entries
The competition has been running for around six years and in 2019 it attracted a record 79 school children when it was launched back in September. Williamson Foodservice pay for all the food used by pupils in their dishes throughout the competition as well as trophies and any other ad-hoc expenditure. The company also helps promote the event in schools and works closely with local chefs who help judge the earlier rounds.
The competition is organised by The Rotary Club of Inverness Culloden and this year it included Culloden Academy, Dingwall Academy, Fortrose Academy, Inverness High School, Inverness Royal Academy and Millburn Academy.
More schools than ever
Managing Director of Williamson Foodservice Gary Williamson said: "It is encouraging that more schools and competitors have been involved this year than ever before. Chefs from local hotels, restaurants and other eateries also came forward in greater numbers as judges and this added to an even greater experience for all concerned.
"This collaborative approach ensures vital links are made between those working in the hospitality sector; young people who are interested in developing careers in food and drink; and educators like Inverness College UHI who provide formal training and skills. Teachers also play an essential co-ordinating role promoting and running heats often in their own time. To them we are especially grateful."
Professional kitchen experience
The four finalists also got to spend the day in a professional kitchen as part of the Schools Masterchef experience in order to develop their wider skills, knowledge and understanding of the hospitality trade. The Kingsmills Hotel in Inverness and Sutor Creek in Cromarty provided the platform for accommodating the finalists on these occasions.
Inverness & Culloden Rotary President James Milton said: "We want to encourage even more school children to come forward in the future and I hope those who helped or supported contestants this year come back in 2020 as competitors in their own right.
"We have ambitions to attract more local schools too so that the benefits of this competition can be felt by even more young people throughout Inverness and the surrounding area." Finalists included: Lauren Bell, Dingwall Academy (overall winner); Charlotte Burton, Inverness Royal Academy; Emma Warner, Inverness High School; and Alix Callaghan, Fortrose Academy.