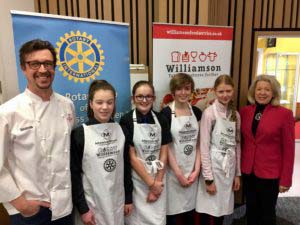 Four secondary school children from Inverness and the surrounding area showcased their culinary skills recently in front of an audience of 80 people as the final of the Schools Masterchef competition concluded at the Inverness College UHI, Inverness Campus.
Organised by the Rotary Club of Inverness Culloden and sponsored by Williamson Foodservice, previous heats and a semi-final saw four competitors emerge as finalists. The competition encourages and develops culinary skills in young people and provides a platform for those who may wish to enter the hospitality trade.
Lady Claire Macdonald from Kinloch Lodge Hotel in Skye and Michael Smith from the Loch Bay Restaurant in Skye were judges for the night that saw Lucia Savage from Millburn Academy win through and claim the title of local Schools Masterchef 2017.
Eric Milne, President, Rotary Club of Inverness Culloden said: "We aim to encourage young people to learn how to cook healthy meals and develop effective organisational, planning and food presentation skills.
"Local chefs who have participated in earlier rounds of the competition as judges openly shared their enthusiasm, advice, skills and kitchens with the finalists and I am very grateful to them for their participation.
"I would also like to acknowledge Inverness College UHI for providing such an excellent venue for the final and to Lady Claire Macdonald and Michael Smith who travelled from Skye to judge the finalists' dishes."
As the north's leading full service food and drink wholesaler Williamson Foodservice sponsored the competition with essential funding and have been actively involved in the competition for several years.
Managing Director of Williamson Foodservice Gary Williamson said: "Standards have been exceptionally high this year and the Schools Masterchef competition creates vital linkages between education, hospitality and the wider food and drink industry. Learning basic skills and understanding more about the food around them helps serve young people well whatever career path they choose to follow.
"Hospitality is a lynchpin of the Highland economy and we are keen to encourage more people like these talented contestants to consider it as a career option. This will provide hotels, restaurants, cafés and other catering establishments with a high quality labour pool to draw from as the sector continues to grow."