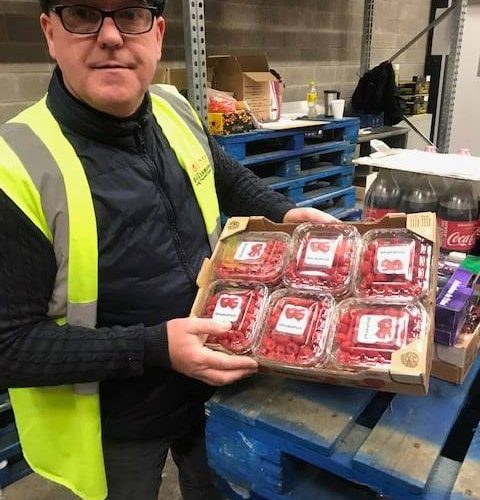 Here is our latest produce update for June 2022 from Neil Young our Produce Buyer who works out of our Glasgow hub. His insight provide a snapshot of what he is seeing in the markets and gives chefs an idea of what's in season.
"With summer now upon us, regular changes to the produce landscape are taking place and mostly all for the better," says Neil.
LOCAL and UK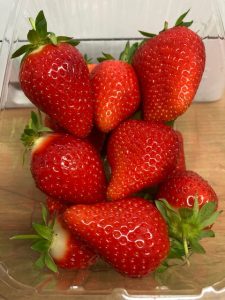 Scottish Strawberries take centre stage and the supply and quality from Leadketty Farm just south of Perth is currently leading the way. UK raspberries are also coming through now in time for the full summer season when visitor numbers continue to increase.
With UK cabbage varieties (Savoy, Primo and Spring) now readily available, the UK broccoli season will be quick to follow around the middle of June. Scottish carrots that have been coming from Aberdeenshire have been stunning quality but watch out as they will give way to Spanish by the end of June. Bunched Mixed Heritage carrots are coming through with really good quality and supply.
We are currently 'in between' winter and summer harvests on Cauliflower. They will whiten up more during June as the predominance will be towards the summer crop. As far as UK Romanesco goes, chefs will have to wait until early July I'm afraid but there are plenty other options to choose from!.
All leafy based salads including mixed baby leaf, spinach, lambs lettuce, rocket, iceberg, little gem, cos etc are all UK crop now with supply at time of writing very good. Likewise, UK pea pods, broad beans and runner beans are now available too. Cavolo Nero and chard from Italy is now finished. UK is due from mid to late June onwards.
With the season for UK asparagus having started early in the Spring, unfortunately it will likely finish early too. Traditionally the last pick is the day of the summer solstice but with a cooler late Spring than normal, our buyer is already seeing tight supply on this. There will still be plenty Spanish, Italian and Polish asparagus about though. Good volumes of Jersey Royal, Cornish and even Ayrshire potatoes are all available.
OUTSIDE UK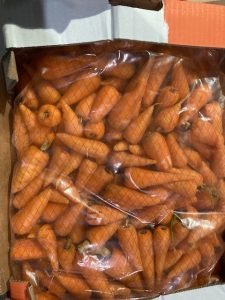 All apple varieties will be moving over to Southern Hemisphere by the middle of June. Dutch gooseberries are available before we get UK crops coming on later in the summer.
Egyptian oranges currently prevail with decent quality as we await the move to South African soon. Spanish melon will hopefully come into its own in the weeks ahead too.
After an uncertain start in the Spring, tomatoes, peppers etc that we rely on Dutch growers for are all good from a quality and supply perspective which is a big relief! By mid June we will be back on to Spanish new season large onions. New season red onion from Egypt are now a standard item of stock – they are flatter than the normal rounder versions.
Spanish Chantenay carrot is available if you can't wait for the UK season getting underway in July but these tend to be larger in size than the UK kind we are used to (see photo left).
Finally, volume, availability and quality in Spanish stone fruit is also on the up which is just in time as the weather gets warmer and outside eating becomes the norm rather than the exception.
Please note: Some of the items mentioned in this produce report may be 'special order' so speak to your sales representative on 0345 450 8888 as early as possible to discuss availability and your exact requirements.
Alternatively, click www.williamsonfoodservice.co.uk for more information.