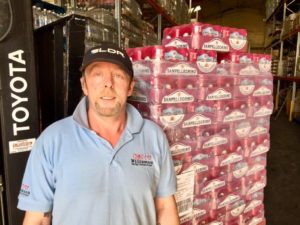 Focus on Williamson staff
This staff member profile will hopefully give our customers more of an insight into our business and help improve the relationship we have with you. Let us know what you think!
Gavin Taylor, Stock Control
Parachutist, aspiring produce buyer and mountain biker.
Gavin is the first point of contact when deliveries arrive to our dry store. When he's not unloading pallets of premium soft drinks, craft beers and other cooking ingredients, he's organising where our product range is stored and rotated so it can be quickly retrieved when orders are placed. Gavin works closely with our buyers to make sure goods are replenished at the right time and in the right quantities.
Q. How did you first learn about Williamson Foodservice?
A. My friend Louise, who is a Field Sales Rep here at Williamson's told me about it and that was just over 8 years ago now!
Q. What do you like most about your job?
A. It's great that I get left to get on with my job without much interference but I also work closely with others who deal with stock to ensure it is organised effectively across different shifts.
Q. What are three words that best describe Williamson Foodservice?
A.Busy | Challenging  |  Efficient
Q. What's the most challenging part of your job?
A. Peak times of the year means stock is coming in quickly and going back out to customers quickly. This means having to be well organised as I can have several delivery lorries coming in at once. Stock then needs to be safely stored, especially perishable items like refrigerated or frozen goods.
Q. What does a typical day look like for you?
A. I start at 3am when I organise the warehouses and move stock about to make it easily accessible. Deliveries start from 4am onwards and it's a case of unloading goods quickly and storing them. I can take delivery of an entire articulated truck load of soft drinks one minute or a couple of dozen pots of artisan yoghurt from a van the next.
Q. What products can customers expect to be hearing more about?
A. Even since I've been here, artisan products from premium soft drinks to cheeses have increased dramatically. Uplift in craft beer has also shown significant growth.
Q. What are your hopes or ambitions for the food and drink industry?
A. I hope it continues to thrive and that Williamson's continues to grow, develop opportunities and service our customers well.
Q. What might someone be surprised to know about you?
A. I completed 24 parachute jumps during my six years in the British Army!
Q. If you are eating out, which style of food do you prefer?
A. I like a lot of different foods but if it's on offer, steak and chips always puts a smile on my face!
Q. What's your passions in life or what do you like to do in your spare time?
A. Like several folk here at Williamson's I love mountain biking. I cycle to work every day come rain or shine!
Q. If you could swap jobs with anyone else, whose would you want?
A. I'd love a spell doing Mark Williamson's (Director) job. Buying all our fruit and vegetable produce from local farms and other parts of the UK to Continental Europe must be fascinating.
Q. Do you have a favourite holiday destination and what's so special about it?
A. Florida. There's lots to see and do and they do the whole family thing so well there.
Q. Is there a celebrity you most look like?
A. No, but Mark Wahlberg looks like me!