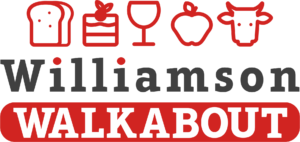 A Williamson Walkabout trade event comes to the Western Isles on 14th March for the first time. Customers and prospective customers from Lewis, Harris and the Uists will have a great chance to find out more and see and sample hundreds of products from 40 of our key food and drink suppliers who hail from all over the UK. Entry is for the trade only and bookings can be made quickly and conveniently at www.foodwalk.co.uk.
It means those suppliers represented, many of whom are Scottish or local to the Highlands and Islands, will all be under one roof at the Cabarfeidh Hotel in Stornoway. Several of these will attend the event in person providing demonstrations, offering free tastings and highlighting the key benefits of their products.
A wide selection of goods from artisan cheese, craft beers and premium soft drinks to an array of catering ingredients, wines, beverages, essential kitchen supplies and cakes will be on offer. A fresh produce display will also be on show.
The event is aimed at anyone from the Western Isles catering, hospitality and retail trades and is free of charge. Hotel, restaurant and café owners are therefore welcome to attend along with their staff which can include chefs, bar staff and cleaning personnel.
All suppliers will offer a one-day only rich promotional deal that provides excellent value for Western Isles businesses currently planning their Spring and Easter offerings.
The Western Isles Walkabout is a thank you from Williamson's to its valued customers. As well as free samples, tasters and a goody bag, high quality catering and hospitality is provided throughout the day and recognises the fact that several customers will travel significant distances to the event.
The Western Isles Walkabout trade event will also help those coming along to understand the diversity of the Williamson's range which now extends to over 3,000 product lines from dozens of different suppliers.
Many of these are Scottish or local to the Highlands and Islands which visitors and consumers are increasingly interested in. Other suppliers from the rest of the UK offer premium quality and great possibilities for Western Isles businesses to increase their value and profitability.
With the Highlands and Islands attracting wider global attention as a destination of choice, 2018 has every chance of providing another great opportunity to grow the north's hospitality and catering sector with Williamson Foodservice standing by to help service this.
Our growing fleet of 30 vehicles cover everywhere from the Western Isles, Skye, Lochaber and Ross-shire to Inverness, Moray, Caithness and Sutherland and parts of Argyll. We have a Stornoway depot serving hotels, restaurants and cafés as well as independent retailers and others involved in the area's catering trade.
Those attending can also catch up with others from the trade, network with new businesses or simply chat to Williamson's staff and suppliers about their future plans or requirements in a specially designated meeting area.
Doors open at 10:30am on Wednesday 14th March 2018 at the Cabarfeidh Hotel. Entry is by ticket only and early booking is recommended which can be made easily and securely at www.foodwalk.co.uk
For further information call us on 0345 450 8888. We look forward to seeing you there!